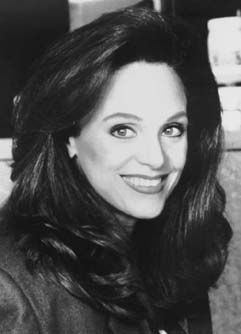 Four-time Emmy winner Valerie Harper first achieved fame as Rhoda Morgenstern on The Mary Tyler Moore Show, and her spin-off series Rhoda. During her nine years with the character she was also honored with a Golden Globe Award, Harvard University's Hasty Pudding Woman of the Year Award, Hollywood Women's Press Club "Golden Apple" Award and a Photoplay Gold Medal Award. In 1987 she was seen as "Valerie Hogan" in the then-titled NBC series Valerie. In 1990 she starred in the CBS series City as city manager "Liz Gianni."

Born in Suffern, New York, Valerie Harper attended Hunter College and the New School for Social Research, both in New York City. Her stage career began at New York's Radio City Music Hall as a member of the corps de ballet. While performing on Broadway in Li'l Abner, Take Me Along with Jackie Gleason,Wildcat with Lucille Ball and Subways Are For Sleeping with Orson Bean and Carol Lawrence, Valerie studied acting. Her teachers included Mary Tarcai, John Cassavetes and William Hickey. She started working with Viola Spolin, the creator of Theatre Games, and her son, Director Paul Sills who created and directed the famed "Second City." That led to appearances in nightclubs (Cellar Door, Village Gate), summer stock (Neil Simon's Come Blow Your Horn) and regional theatre (Seattle Repertory Company). Valerie's later Broadway credits include Carl Reiner's Something Different, Paul Sills' production of Ovid's Metamorphosis, as well as Sills' Tony Award-winning Story Theatre.
Harper has starred in the theatrical films, Blame It On Rio with Michael Caine, Neil Simon's Chapter Two, Freebie And The Bean with Alan Arkin and The Last Married Couple In America with Natalie Wood and George Segal. Recently she has starred in the CBS Movie of the Week Stolen One Husband with Elliott Gould and Brenda Vaccaro. Some of her other motion pictures-for-television include The Execution with Jessica Walter, The Day The Loving Stopped with Dennis Weaver and Ally Sheedy, Farrell For The People with Ed O'Neill,Drop Out Mother with Wayne Rogers and Carol Kane, Strange Voices with Nancy McKeon, Fun And Games with Jo Beth Williams and Michael Nouri, Don't Go To Sleep with Dennis Weaver and Ruth Gordon, An Invasion Of Privacy with Cliff DeYoung and Carol Kane, Night Terror with Quinn Cummings, The People Across The Lake with Gerald McRaney and Thursday's Game with Gene Wilder.
Valerie's other notable television appearances include the role of "Maggie" in The Shadow Box, an ABC Theatre dramatic presentation directed by Paul Newman, Neil Simon's The Trouble With People with Alan Arkin, Norman Lear's I Love Liberty with Judd Hirsch and hosting the critically acclaimed documentary Child Abuse: Innocence On Trial.
Over the years Harper has continued to work in the theatre. In Los Angeles at the Mark Taper Forum she appeared in the original production of Story Theatre that later went to Broadway. She played L.A.'s James Doolittle Theatre and later toured with Anthony Zerbe in Dear Liar (a lifetime of letters between George Bernard Shaw and the actress, Mrs. Patrick Campbell). In 1983 she toured Florida with Zev Bufman's production of Agnes Of God in the role of the Psychiatrist.
Valerie devotes much of her time to The Hunger Project, an organization which has as its purpose the end of world hunger by the turn of the century. With Dennis Weaver, Valerie is one of the founders of LIFE (Love Is Feeding Everyone), a community activated food distribution program in Los Angeles. Valerie also works with the End Hunger Network, Save the Children, AFRICARE, OXFAM, RESULTS, and actively supports women's rights issues (Advisory Board member, The Rape Foundation). In 1989, in response to the growing emergency of homelessness, Valerie worked actively with HOUSING NOW!, a group dedicated to restoring the national low income housing budget. Along with such Hollywood luminaries as Jon Voight, Rita Coolidge and Jean and Casey Kasem, Valerie has joined the effort to make Congress return the 25 billion dollars that was cut from the low-income housing budget during the 80's. Most recently, Valerie participated in a major way to generate attention to and support for the historic World Summit For Children which was held on September 29 and 30 at the U.N. in New York City. Seventy-one heads of state met to address the desperate condition of little children all over the world. Valerie and show business colleagues appeared on talk shows such as Arsenio, Oprah Winfrey, Tonight, Joan Rivers and CBS Morning Show to create participation in the World Summit For Children Candlelight Vigils which occurred one week before the summit to draw attention to this unprecedented, crucial meeting of world leaders.