Photos from Life Magazine - October 1971
"In one of director Tom O'Horgan's more spectacular effects, Jeff Fenholt, as Jesus, is unveiled just before his Crucifixion in what O'Horgan calls the 'chrysalis,' while Judas (Ben Vereen) sings 'Jesus Christ Superstar' with a chorus of three girls on the 'butterfly bridge.'"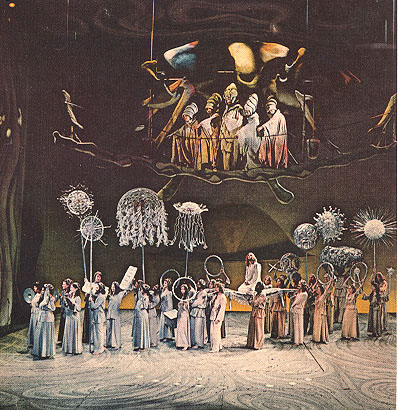 "The Hosanna parade includes a 'bone bridge' filled with high priests, and a group of Christ's followers carrying mysterious symbols that O'Horgan says came to him in dreams. They include plastic fantasy protozoa and a set of dentures. 'They're all replicas of human and organic things,' O'Horgan explains. 'I felt this kind of staging was more suited to our time than other possibilities.'"

Director Tom O'Horgan
To return to the Tom O'Horgan Index
click here.
Or use your Back button to return to where you were.